Shopping Cart
Your Cart is Empty
There was an error with PayPal
Click here to try again
Thank you for your business!
You should be receiving an order confirmation from Paypal shortly.
Exit Shopping Cart
​Sea Breeze Cha​r​​t​er​s​
IInshore, Nearshore, & Offshore Ch​art​ers
We left the dock at 4:30am, first trip offshore this year. It was a little choppy but we found plenty of action. We started out at the Edisto Banks and caught a dolphin right off the rip. A few minutes later we had four lines go off at once only to catch four Bonitas. No bite for the next thirty minutes so we decided to head deep looking for warmer water and found it. We picked up a couple Dolphin from 300-700ft and low and behold Mr. Blue Marlin showed up. After fighting the fish for close to 2 hours we got him to the boat with a good release. we ended the day with 10 Dolphin, 6 Bonitas, 1 Amberjack, and ! Blue Marlin! It was a little choppy but we had a great trip. What a way to start the season!
4/18/2014
Nearshore Reefs Report
Fishing has been great so far this month. This week has been blown out but the first couple of weeks we did great on the reefs catching huge Redfish, Sea Bass, Weakfish, Blue Fish and False Albacore Tuna. The Cobia should be showing up here pretty soon along with some Spanish Mackeral.
Offshore Report
As of a week ago the Dolphin started showing up (Deep) and should be quite abundant within the next couple of weeks. The Blackfin Tuna and Wahoo are hanging right around the ledge and are there for the taking.
Dates are filling up quick so don't hesitate to book your trip for May and June.
IT'S ABOUT TO BE PRIME TIME!!!
Thanks for checking out the website!
Captain Mike Yount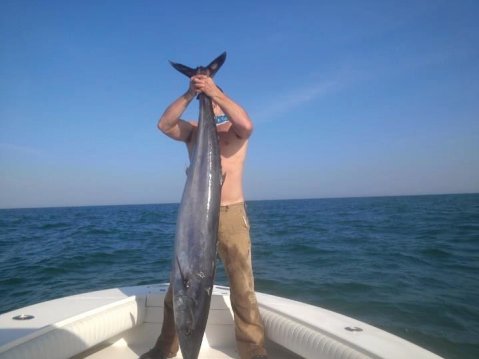 We left the dock at 3:30am and arrived at the Edisto Banks as the sun was coming up. We landed a dolphin right off the rip and had action pretty much all day. Around 11:00am we dropped some butterfly jigs on the ledge and hooked up with several lessor Amberjacks. We did a little more trolling before heading in to some live bottom areas and caught some porgies and some massive endangered Black Seabass. We ended up with 4 nice Blackfin tuna, 2 nice Wahoo (one was about 70 pds), a handful of Dolphin, and released quite a few Bonita. It was a great day to be on the water.
/